Christian Bridal Shower Ideas
The bride-to-be of faith will feel the love shared with the other women of faith provide before her wedding when you use some of these Christian bridal shower ideas.
Typically, the maid-of-honor is the hostess of a bridal shower, but can be hosted by a family member or mother-of-the-groom. There are several venues you can use to host a Christian bridal wedding shower for the bride like: your home, church, rented hall, or even a local park.
The bridal shower hostess can get  Christian bridal shower party ideas from other religious events like baptisms, christenings, or a First Communion, and personalize those party supplies for a Christian bridal shower. Many of these religious party supplies are showcased below.
The first step in planning your Christian bridal shower is making your guest list, this may require the help of the bride's mother, as many guests will be close family members and she will know how to contact them.
The second step will be choosing a bridal shower theme that matches your faith.  Most bridal shower themes are not religious in nature, but you personalize the products to add a Bible verse, Scripture quote, or Christian blessing sentiment to the item like: God Bless.
The number of guests to invite will vary depending how many friends and family the bride and groom have. An idea size of guests would be around 16, so people can mingle and divide the guests up into groups of 4 for bridal shower game time
If you are the bridal shower hostess, give yourself a couple of months to plan the wedding shower and enlist the help of a few friends to help with decorations, invitations, games, gifts, and snacks
Christian Kitchen Bridal Shower Ideas

Kitchen Love Bridal Shower Party Pack
Looking for a Kitchen themed bridal shower? Look no further than this new, Kitchen and Love bridal shower theme that uses vintage apron, kitchen utensils graphics, along with polka dot and pink stripe patterns!
Kitchen bridal shower party supplies in this kit come with eight place settings, coordinating decorations, personalized banner sign, solid color balloons, curling ribbon, crepe paper streams, table cover, and more.

Printable Kitchen Bridal Shower Games and Complete Party Collection
Host a Kitchen-theme bridal shower today with this printable invitation, decorations, recipe card, 10 games, and thank you cards suite. Kitchen bridal shower games include:
Bridal Shower Bingo
Bridal Scattergories
Famous Couples
Him or Her (Bride and Groom quiz)
How Well Do You Know the Bride?
Little Black Purse Scavenger Hunt
Love Around the World
Wedding Words Unscramble Game
What's in your Cell Phone?


Digital Kitchen Bridal Shower Invitation and Recipe Card


Stock The Kitchen Bridal Shower Invitation Suite Template
Christian Kitchen Bridal Shower Gift Ideas

Faith Potholder Notepad & Tools Gift Set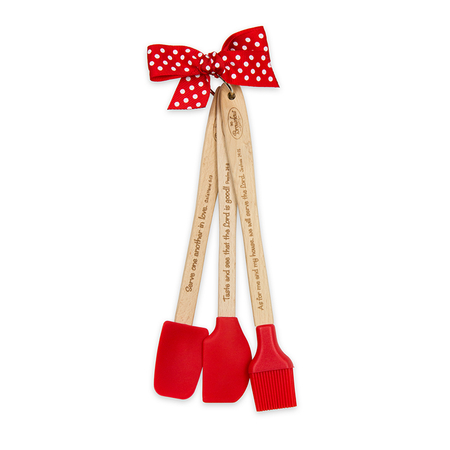 Christian Mini Kitchen Tool Gift Set
Set of 3 wooden kitchen tools each are engraved with a Bible verse on the handle, tied together with a pretty red/white dotted ribbon. Kitchen tools include: a flat spatula, curved spatula, and a basting brush and the Bible verses read:
Taste and see that the Lord is good! Psalm 39:8
As for me and my house we will serve the Lord. Joshua 24:15
Serve one another in love. Galatians 5:13

Bride and Bridesmaids Having Fun
Photo by Edalene.
Christian Bridal Shower Party Supplies Ideas

Southern Belle Religious Bridal Shower Invitation
Personalized, Scripture quote Christian bridal shower invitations with southern belle in wedding gown and umbrella design comes in a variety of colors and each invite is printed with the Bible verse:
I found him whom my soul loves.
Song of Songs. 3:4.


DIY Bridal Shower Games With Bible Verse Sign and Thank Yous
Digital pink flower bridal shower game collection, thank you card, as well as, a Bible verse and bride advice sign. Wedding party game set has popular bridal shower games like: Bingo, He Said and She said, Here Comes the Bride, Wedding Word Search, and more!


Cross Compact Mirror Bridal Shower Favor
More Christian Bridal Shower Ideas

Bridal Shower Table Setting Idea
Photo by Samatha Stone.

Bridal Brunch Invitation Template

Elegant Bride Shower Invitation Template

Fashion Magazine Bridal Shower Invitation Download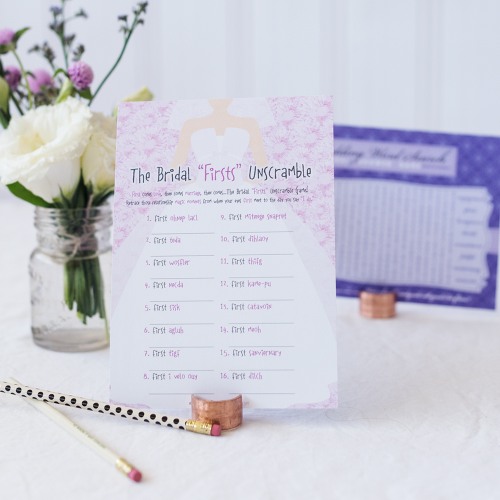 Bridal Shower Word Games
Break the ice during your bridal shower by using these wedding games during your event.
Bridal Shower Dessert Table Ideas

Bridal Shower Dessert Table
Photo by: Samatha Stone.

Beautiful Bridal Shower Dessert Table
A bakery owner shares a beautiful bridal shower picture and the dessert table. I love idea of placing a wedding dress decoration on the table. The hostess used some elegant elements are candlesticks and placing the cupcakes and desserts on tiered stands and covered cake stand give the table height.
The flowers in vases are a simple table decorating idea, but look so elegant! The hanging tissue pom poms really make an impact! Pink and cream bridal shower dessert table photo by Meringue Bake Shop Kristin A.