Christian Engagement Party
Find a variety of Christian engagement party ideas, as well as, ideas for a couple's wedding shower.
So often, the engagement period is overlooked. That is why I created this page to give several Christian engagement party ideas.
After a couple is engaged, probably most attention goes planning the wedding ceremony. Consider giving some time to celebrate the good news with friends and family during an Engagement party.
Not only is a the engagement period a joyous time for the couple, it is a wonderful time to celebrate with loved ones.
If you are on a budget, consider spending less money on engagement party supplies and also make the invitations at home. Below is a nice selection of affordable engagement announcement cards, as well as, party invitations!

Digital Custom Engagement Invitation
Christian Engagement Party Ideas
If the wedding budget is smaller, consider having the engagement party in a church, park, or backyard. Also, engagement party food can be made on a grill or a potluck.

Printable Religious Engagement Announcement Invitation
Not only is this invitation modern, it is also printable! The invitation has a teal-blue background with a heart graphic and also a popular Bible verse:
The Two Shall Become One.

Happily Engaged Personalized Stickers

Digital Engagement Party Kit
Printable engagement party supplies with a graphic of a bicycle built for two and a variety of patterns. The wedding party kit has advice for the bride and groom card, invitation, banner sign, gift tag, bottle label, recipe cards, straw flag, and also a thank you card.


Couple's Engagement Wedding Shower Game


50 Love and Laughter Plastic Cups
Plastic cups for every wedding occasion! Each cup is printed with the following sentiment:
Love Laughter and Happily Ever After.
Engagement Party Candy Buffet Dessert Table Idea


Wedding Candy Buffet Decorations and Supplies
Blue and brown are one of the most popular wedding colors. This Blue and brown candy buffet will make a wonderful dessert or candy table idea.
Also, candy buffet can be used for most wedding events like: bridal shower, engagement party, or a reception.
Christian Engagement Party Favor Ideas

Blessed Wedding Gift Boxed Photo Frame Favor
Use this Christian picture frame party favor for any wedding event like an engagement party. Each picture frame has a cross accent and space for a favorite wedding photo. Frames are gift boxed, with a thank you tag, and also tied with a white bow. The picture frame wedding favor also has the following beloved wedding poem on an insert card.
With the grace of God
who shows the way.
We embrace this
sacrament here today.
The road ahead need not wait,
With love the Lord shall
set our fate. We celebrate
this blessing with you near.
Friends and family,
these we hold so dear.

Personalized Wedding Engage Mints
Wedding mints come in 7 fun designs and are a sweet treat for guests. Each mint tin is personalized with 2 names, engagement date, and also a short sentiment.


Engagement/Wedding Ring Soap Party Favors

Engaged Popcorn Bags
Popcorn bags are great for an engagement party since each bag is printed with the following sentiment with He popped the question and she said Yes!
Engagement Party Invitations

Engagement Photo Collage
Picture by Tre Hinojosa.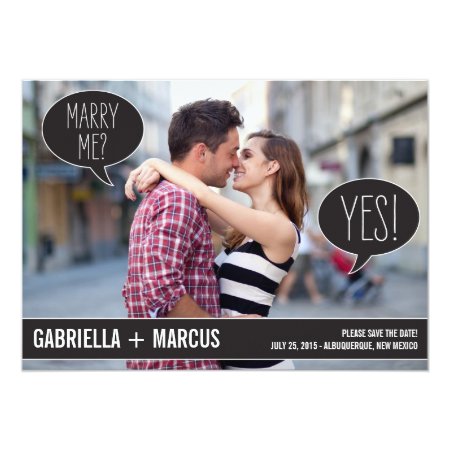 Talk Bubble Wedding Save The Date Card

Save the Date Photo Postcard
Engagement Party Food Ideas