Christian Jewelry for Men
Christian jewelry for men come in a variety of bracelets, necklaces, pendants and rings. Find a handsome piece of Christian jewelry for the men and guys in your life for a birthday, graduation, Father's Day, holiday, or other special occasion.
My husband has a handsome Cross necklace that he cherishes and wears it daily.
If you are looking for Christian cuff links for the groom, best man, groomsmen, or the men in your wedding part, I created the page for Christian groomsmen gift ideas with a nice variety of Christian cuff links.
Engraved Christian Pocket Watches

Personalized Men's Christian Pocket Watch
These Christian pocket watches come in 4 colors and make a great groomsmen, or wedding party gift.
Men's Truth Hunter Cross Necklace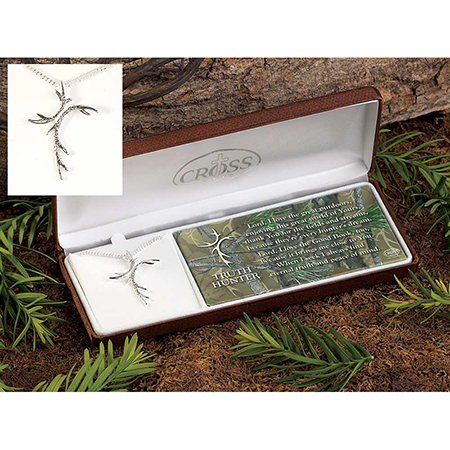 Men's Truth Hunter Antler Cross Pendant Necklace
Unique Christian cross necklace for men, made in the shape of an antler! This men's cross comes on on 24 inch chain, boxed in gift box with a card which says:
Lord, I love the great outdoors,
enjoying this great world of Yours,
thank You for the fields and streams
because they're every hunter's dream.

Lord, I love the Good Book, too,
because it brings me close to You.
When I seek I always find
eternal truth and peace of mind.
Christian Bracelet for Men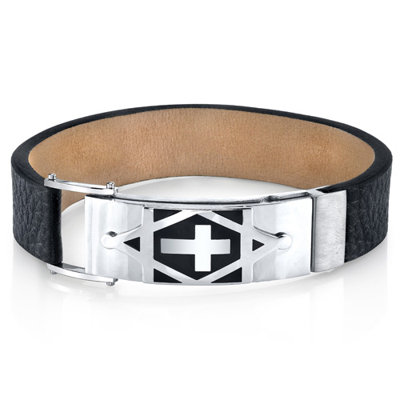 Cross, Star of David Men's Stainless Steel Bracelet
The most popular Christian jewelry gift for men is a religious ring and a Lord's Prayer ring is always a great choice. Below are several styles of Christian jewelry for men, and also a handsome pocket watch that most men like to carry.
Christian Necklaces for Men

Men's Lord's Prayer Cross Pendant
This stainless steel cross is engraved with the Lord's Prayer. The Lord's Prayer cross pendant makes a wonderful gift and reads:
Our Father, which art in heaven,
hallowed be thy name.
Thy Kingdom come.
Thy will be done in earth,
as it is in heaven.
Give us this day our daily bread.
And forgive us our trespasses,
as we forgive them that trespass against us.
And lead us not into temptation,
but deliver us from evil.
For thine is the kingdom,
the power, and the glory, forever and ever.
Amen.
Nail Crosses for Men

Men's Nail Cross Pendant on Black Cord
Best-selling contemporary cross necklace made of wrapped nails offers a way witness the sacrifice of Christ. The nail cross comes a 30 inch black cord.

Men's Nail Design Cross Pendant
The nails are a reminder of the suffering Christ bore for us. Words cannot measure the depth of His sacrifice and you can wear this necklace as a reminder of your Lord and Savior, Jesus Christ.