If you looking for men's Christian wedding bands which share the faith, show the groom-to-be these handsome religious rings.
Did you know you can have a custom wedding vow, poem, Bible Verse, Scripture, quote, or Cross emblem engraved onto your wedding band or wedding rings? In addition, a wedding band can be engraved with initials, a Bible verse, or short wedding vow.
Most Christian wedding band rings can be customized with short Scripture quote like: Song of Solomon. If Song of Solomon is not favorite wedding verse, choose from a list of written Scripture quotes.
A Christian wedding band will serve as a daily reminder of the marriage commitment to each other and to Jesus Christ.

Men's Trinity Cross & Diamond Wedding Ring
Trinity symbol Christian diamond wedding ring is engraved with this quote:
With God all things are possible.
Men's Christian Wedding Bands

Men's Christian  Wedding Band
This Christian wedding band is crafted from solid sterling silver with a brushed finish. In the center is an engraved cross with a solitaire diamond accent. Also, the band is a beautiful quote which reads: Always with you.

Wedding Ring and Prayer Poem
Photo by Jeffrey Tucker.
Celtic Wedding Bands and Rings

Bible and Wedding Rings Photo
Photo by Alex.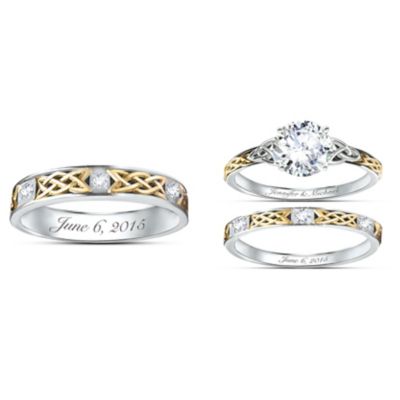 Irish Trinity Knot Personalized Wedding Rings
Matching Celtic wedding bands and engagement ring set is engraved with a date and also 2 names.
Christian Wedding Bands


Faith Hope Religious Wedding Ring
Stunning Christian wedding band etched with this Bible verse on the outside and inside:
And now abide faith, hope,
charity, these three;
but the greatest of
these is charity.

1 Corinthians 13:13

Solomon Quote Wedding Ring
Religious wedding band is engraved with a cross and also a familiar love Bible verse.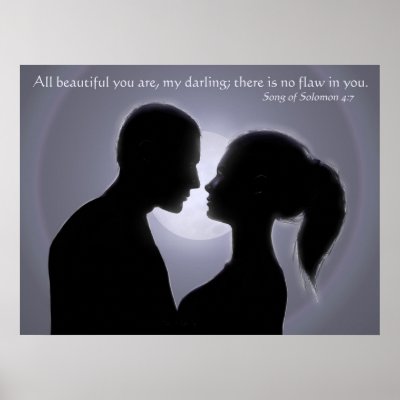 Song of Solomon Love Quote Poster