Christian Wedding Cake Toppers
These Christian wedding cake toppers can be used for any wedding, religious or secular. Some of these Christian wedding cake toppers are made by Lenox, known for quality keepsake gifts and collectibles.
I still have my wedding cake topper stored away and still take it out to remember that day and couple's will love a keepsake wedding cake decoration.

Religious  Wedding Cake Topper
Modern bride and groom figurine also doubles as a wedding cake topper.
Bride and Groom cake decoration has 2 doves and also engraved with this beloved Bible quote:
And the two
shall become one.
Mark 10:8.
One of the most popular Christian wedding cake toppers the doves topper, which serves as a reminder of the love between God and His people.

Willow Tree Wedding Figurine
Exquisite couple's figurine to use as wedding cake topper and a keepsake decoration.


Clear Bride and Groom Cake Topper
Cake topper figurine in clear acrylic material designed to look like the bride and groom dancing.
Beautiful Christian Wedding Cake Toppers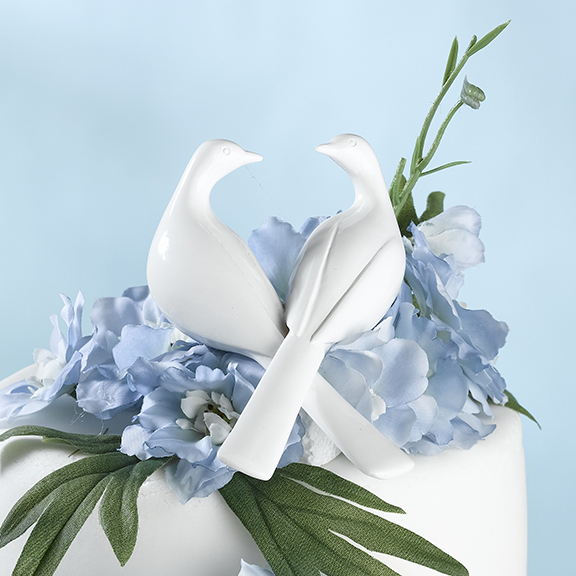 Wedding Doves Cake Picks
Decorate the wedding cake with this charming doves cake pick. This resin wedding cake pick shows a pair of doves sharing a loving glance.

Doves Religious Wedding Cake Topper
Beautiful wedding cake topper by artist Kim Lawrence. The doves have white roses accents, rhinestones and silver raised swirls. Doves wedding cake topper is engraved with this quote: and the Two shall become one.
God Gave Me You Wedding Cake Toppers

Gold Hearts and God Gave Me You Wedding Cake Top


Religious Cake Wedding Topper


God Gave Me You Wedding Topper
beautiful Christian wedding cake topper is made from genuine crystal rhinestones, as well as, metal alloy. Religious wedding cake topper has stylish script printed with the quote.
More Wedding Cake Toppers