Christian Wedding Decorations
Christian couples have a deep-rooted faith and plan on having a marriage to last a life time. Get ideas for your Christian wedding decorations, ceremony, and reception on this page.
The phrase, Always and Forever, makes a wonderful  sentiment of faith and these religious wedding reception and party supplies can be used a your wedding ceremony, a Christian wedding shower, or religious bridal shower.
Find a wide selection of Christian wedding decorations, and ideas, to use for a ceremony, engagement party,  shower,  or reception. The inexpensive Love-themed religious wedding shower supplies are inexpensive and perfect for the bride and groom on a budget.

Love is Patient Custom Wedding Backdrop Sign Banner
Love is Patient wedding sign has two hearts with a cross graphic and personalized. Christian wedding background sign measures. 42 inches wide  by 8 feet high and comes with adhesive tabs for hanging.
Christian Wedding Decorations


Grace Religious Wedding Decorating Kit
Elegant religious wedding decorations with gold leaf graphics on white. Christian wedding decorations includes these props: arch, columns, tree, and a photo op.
In addition, these additional party decorations complete the wedding decorating kit: clear lights, bird cages, gold lantern, sheeting, and vinyl materials.



Christian Knot Wedding Ceremony Sign
The knot symbolizes an unbreakable union, as displayed on this unique Christian wedding sign. The knot ropes are 26 inches long, and sign measures 12 inches by 2 feet, printed with the Scripture quote: A cord of three is not quickly broken. Ecclesiastes 4:12


Bride and Groom Lighting Unity Candles
Wedding photo by Joshua Hayworth.

Religious Song of Songs Wedding Aisle Runner
Wedding aisle runner printed with the beloved Bible verse which reads:
I have found the one
whom my soul loves.
Song of Solomon 3:4.

Love is Patient Bible Quote Wedding Aisle Runner
Christian Wedding Reception Decorations

Wedding Reception Hall Venue
Reception photo by Kenny Matic.

Picture Collage Custom Wedding Table Runner
Use this custom photo wedding monogrammed table cover on your head wedding table for a stunning display!


Love, Always And Forever Christian Wedding Shower Supplies
A gorgeous wedding theme printed with the sentiments: Love, Always and Forever, with a black damask print, on white, and finished with a Teal blue color.
An elegant wedding shower party bundle which comes with a banner, table ware, balloons, accordion lanterns, table cover, wedding mints, and more!


Forever and Always Wedding Cake Top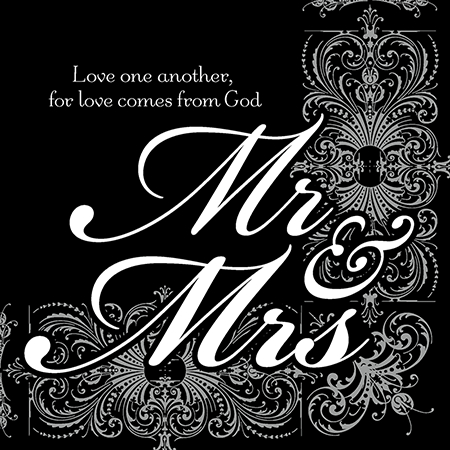 Mr. & Mrs. Christian Wedding Napkin
Black wedding napkins with an elegant scroll pattern, printed with Mr. & Mrs. in large font, along with this Scripture quote:
Love one another for
love comes from God.
Christian Wedding Favor Ideas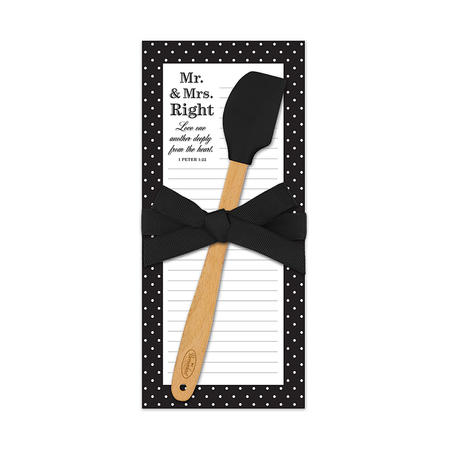 Mr. and Mrs. Right Christian Wedding List Pad and Spatula Set
Christian wedding theme notepad, and spatula, tied up together, secured with ribbon for a ready-to-give gift. This notepad has a black and white polka-dot border, printed with Scripture, with a matching black spatula, and tied with a black ribbon, makes a wonderful Christian wedding party favor for women. The notepad is printed with this Bible verse:
Love one another
deeply from the heart.
More Christian Wedding Ideas

50 Christian Wedding Hymns and Songs 3 Pack CD Set
3-Pack of CD's with 50 wedding favorites and includes: timeless hymns, songs of devotion, as well as, a variety of contemporary love songs.

A Christ-Centered Wedding Guide Book
A wonderful guide-book for Christian couple's who desire to keep God at the center of their big day.

Christian Wedding Planner Handbook
A first wedding guide-book. Christian wedding planning guide will help organize and prepare for a wedding.