Christian Wedding Gift Bags
Beautiful Christian wedding gift bags are perfect to use for favors and gifts for your wedding party and wedding guests. Christian gift bags come in a beautiful assortment of designs and many bags have a matching gift tag, and tissue paper.

Personalized Religious Wedding Gift Bags With Handles
Give  wedding guests something to remember with these personalized Christian wedding gift bags. Each wedding bag has carrying handles comes your color choice, design, and also a custom text.
Christian wedding bags will look wonderful when you place them on a wedding table or a gift table.
You can personally hand  out a wrapped wedding thank you gift to bridal members, groomsmen, and wedding guests.
Personalized Christian Paper Wedding Gift Bags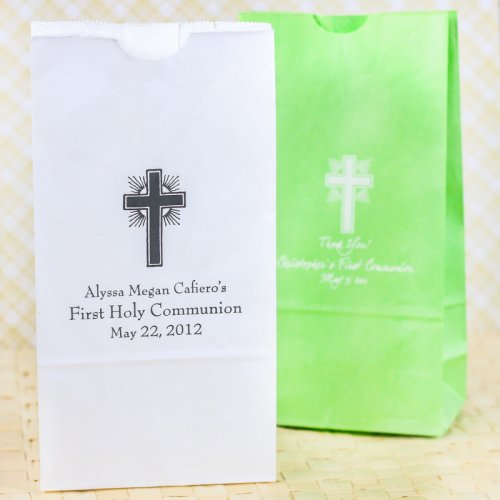 Personalized Cross Design Wedding Party Bags
Customize these religious wedding party bags and use for favors, small gifts, or other gifts. Choose your bag color from 10 choices, and personalize with your names, wedding date, and a short sentiment.
Christian Wedding Gift Bags Ideas

Gold Polka Dot Wedding Gift Bags
Make wedding gift-giving easy with this set of gift bags with a gold polka-dot pattern on white. Wedding gift bag printed with a special message which reads:
Thank you for sharing our day!


Cross Wedding Gift Bags 12-Pack
Elegant Christian-themed wedding gift bags with a gold and silver tone cross and scrolling pattern border. Christian wedding bags have a handle. Add  white tissue paper to complete the wedding gift in style.


Silver Floral/White Wedding Gift Bags 12-Pack
Glitter silver flower graphic on a traditional white wedding gift bag make these bags perfect for any wedding event.
Christian Wedding Gift Bags With Tissue Paper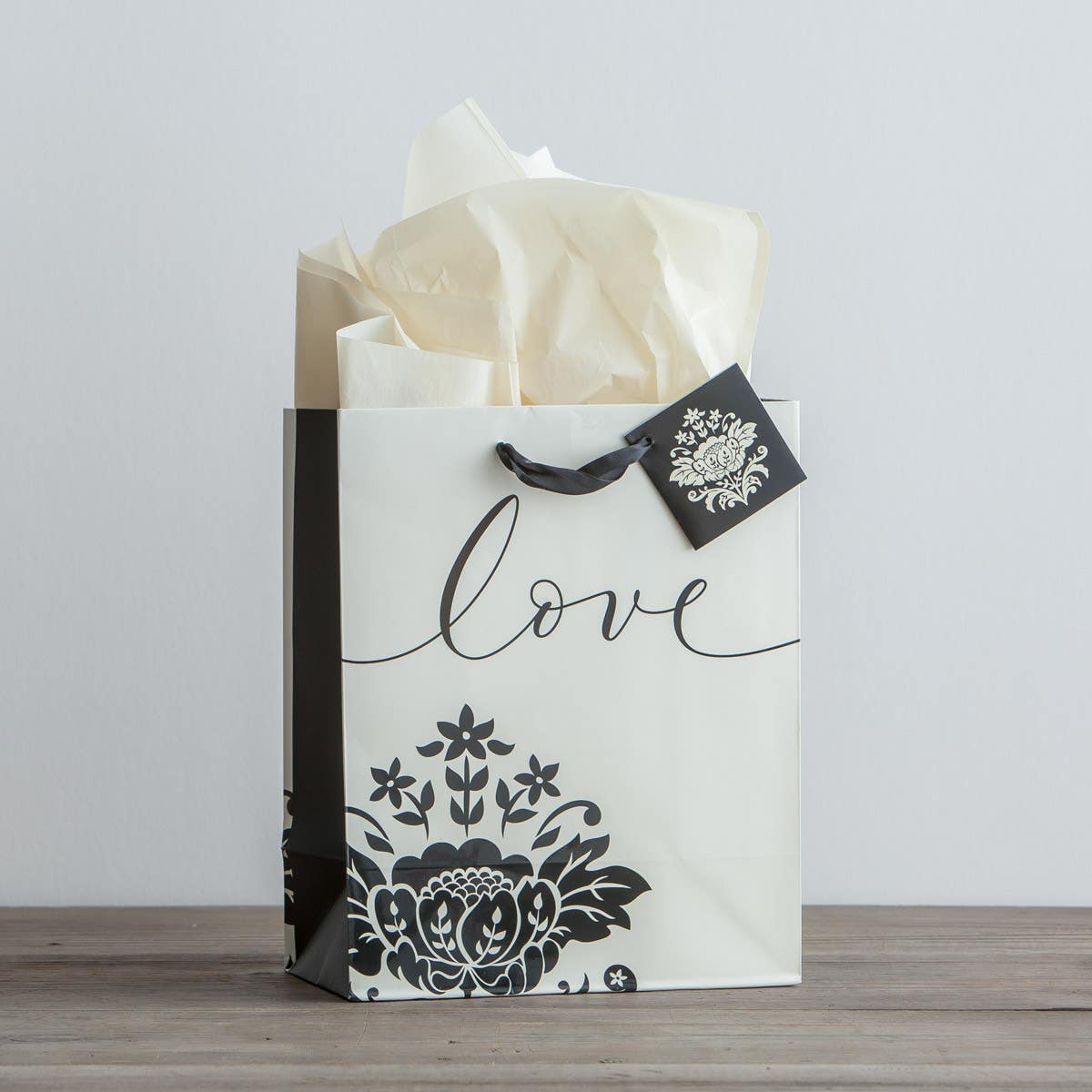 Song of Solomon Christian Wedding Gift Bag and Tissue
Simple gift bags that are perfect for weddings in white with black lettering, tissue paper, gift tag, and has this Scripture quote:
Front of gift bag reads, Love, and the backside reads:
I found the one my heart loves.
Song of Solomon 3:4 NIV

Love and Cherish Christian Wedding Gift Bags
Black gift bags with a white paisley accent, silver band in the center printed with "love and cherish", will fit a medium-sized gift. Each gift bag comes with tissue paper and an attached gift tag.

Christian Friends Medium Gift Bag with Tissue
Wrap gifts for female friends who attended your wedding with this fun, inspirational gift bag! Gift bags have fun bottom of socks graphics and printed with this Scripture quote:
You have a very special place in my heart.
Philippians 1:7.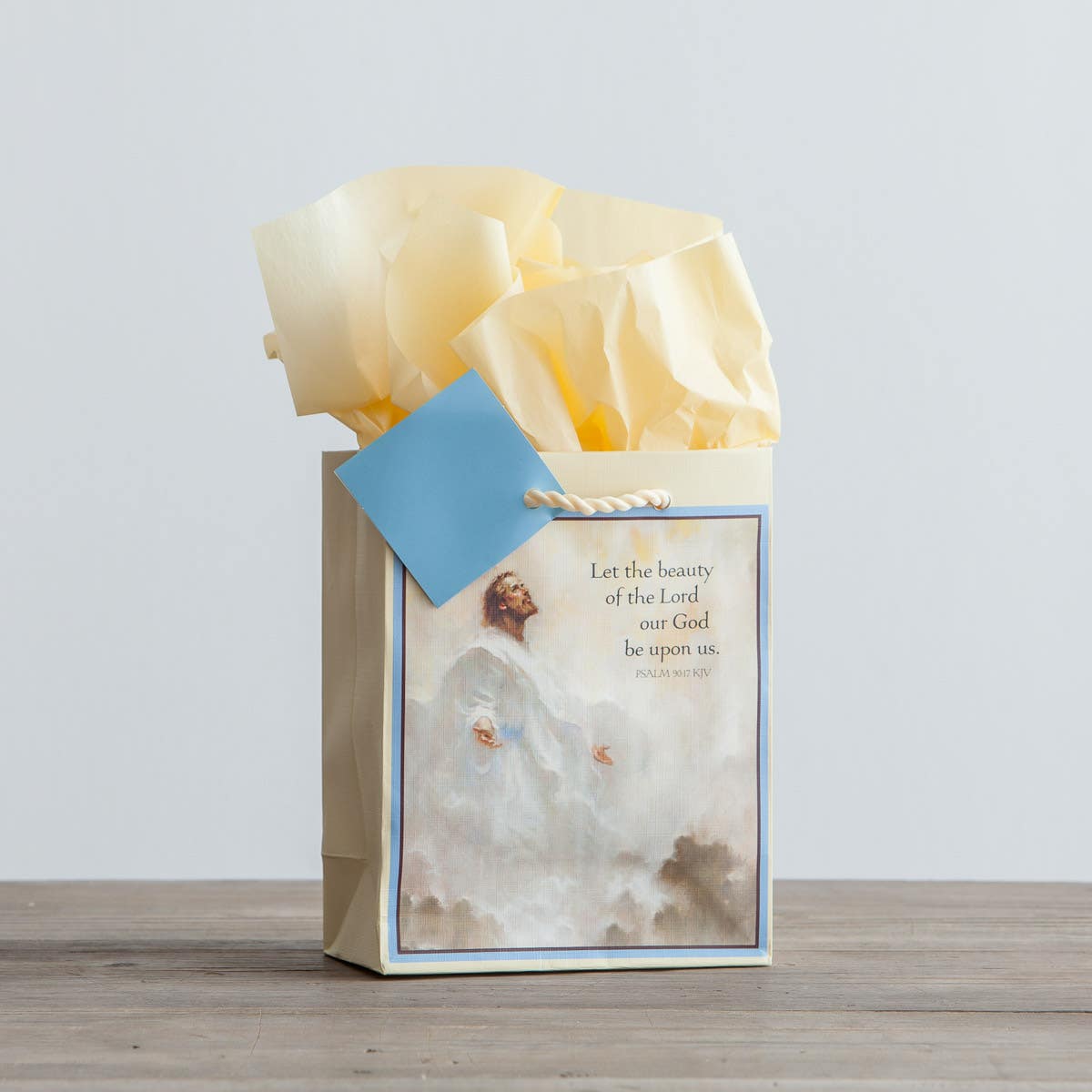 Life of Christ Gift Bag With Tissue
Faith-inspired gift bags with a graphic of Jesus going to Heaven and printed this Bible verse:
Let the Beauty of the Lord Be Upon Us.
Christian gift bag comes with a gift tag and matching tissue paper.
Christian Wedding  Cellophane Goody Bags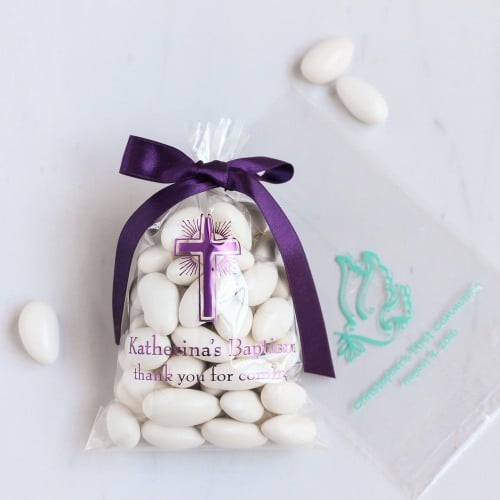 Personalized Cross Cellophane Wedding Treat ags
Custom cellophane wedding treat bags come in a variety of religious themes. Cellophane bags are great for wedding treats like: Jordan Almonds, candy cookies, nuts, or other goodies. Add matching ribbon to tie each cellophane bag closed.