Christian Wedding Presents
Christian wedding presents will bless the bride and groom for years to come. Popular Christian wedding presents come in many styles, but probably the most popular gifts are art prints.
All Christian wedding keepsake art prints have lovely prayers and also Bible verses.
Other Christian wedding gift ideas showcased include: decorative crosses, figurines,  jewelry, and also gift sets.

1 Corinthians Wedding Wall Plaque
Gift the newlyweds this lovely resin wall plaque with the Bible verse:
Faith, Hope, and Love.
And the greatest of
these is Love.
1 Corinthians 13:13.
Christian Wedding Gift Ideas

Religious Guardian Angel Wedding Figurine
Lovely wedding keepsake figure of a Guardian Angel protecting a newlywed couple under her wings.
Wedding keepsake figurine has the bride and groom holding hands, under a guardian angel's wing.
Guardian angel wedding figurine can also be personalized on the base.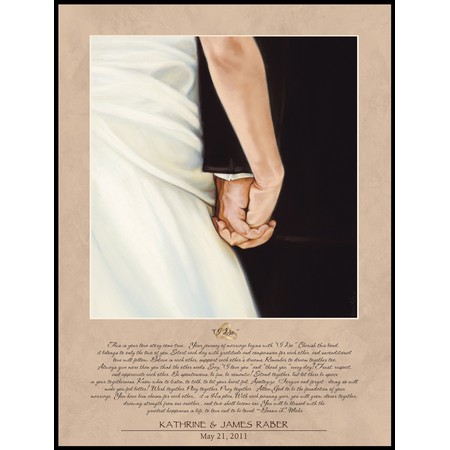 Scripture I Do Wedding Poem Art Print
Christian wedding picture with a graphic of a bride and groom holding hands,  personalized with two lines of text, and a beautiful wedding poem which a portion reads:
Work together. Play together. Pray together.
Allow God to be the foundation of your marriage.
You have been chosen for each other.
It is His plan. With each passing year,
you will grow closer together,
drawing strength from one another,
and two shall become one.
;
Religious Wedding Figurines

Praying Couple Figurine
Hand painted praying couple on a coach figurine engraved with a Bible verse on the plaque from Ephesians 4:2-3.

Couple in Love Figurine
Christian couple figurine is by the Foundations Collection. Figurine of a man holding a woman is made of stone resin in soft colors and embellished with sparkling stones.
Christian Wedding Cross

Love is Patient Wedding Cross Keepsake
Beautiful wedding wall cross adorned with the Scripture, Love is Patient, Corinthians 13:4-5. Wedding cross has a silver heart which is engraved with 2 names.
Christian Wedding Gift Ideas

Precious Moments Musical Wedding Globe
More Christian Wedding Presents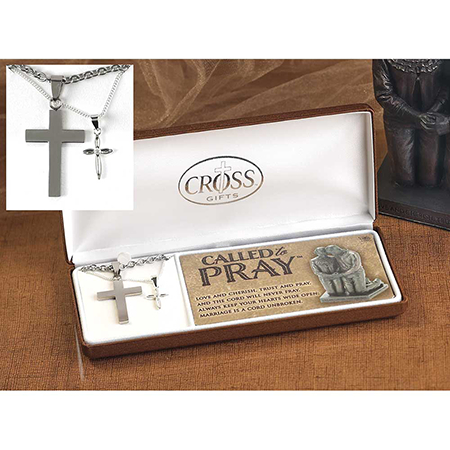 Couple's Cross Necklace Set
2 cross necklaces with Cubic Zirconia gemstones are gift-boxed with an insert card which reads:
Love and cherish, trust and pray,
and the cord will never fray,
always keep your hearts wide open;
marriage is a cord unbroken.

Religious Mr. & Mrs. Trinket Dishes

Religious Photo Wedding Throw Pillow
Keepsake pillow personalized with 2 wedding pictures and printed with a beloved wedding Bible verse.