Christian Wedding Programs
Looking for a wedding program that reflects your faith and has an inspiring Bible verse, song or Christian message? These wedding bulletins are similar to the bulletins you receive at church for you weekly service only for a wedding.
Christian wedding bulletins are an inexpensive wedding program for you to print off your wedding ceremony service at home, or take them to a printer to complete.

Our Love Story Christian Wedding Program Bulletins 100-Pack
Religious fairy tale design wedding bulletin with a stunning graphic of bride, and her groom, set against a full moon in the the night sky. Each wedding bulletin is printed with the Bible verse and sentiment:
God is still writing our love story.
If we love one another,
God lives in us and his love
is made complete in us.
1 John 4:12.

Here Comes the Bride – Fun Wedding Picture
By outreachr


Whither Thou Goest Christian Wedding Bulletins 100-Pack
Unique wedding bulletins with a graphic of bride, and groom, walking hand-in-hand with a bike in a field. The wedding programs are blank inside and the cover is printed with a beautiful Old Testament quote that reads:
Whither Thou Goest
For whither thou goest;
I will go; and where thou lodgest;
I will lodge; thy people shall be
my people, and they God my God.
Ruth 1:16.

Two Are Better Than One Christian Wedding Bulletins 100-Pack
Religious wedding bulletin features a bride, and groom's shoes, and printed with the Scripture quote:
Two are better than one; because they have a good reward for their labour.
For if they fall, the one will lift up his fellow: but woe to him that is
alone when he falleth; for he hath not another to help him up.

Again, if two lie together, then they have heat:
but how can one be warm alone?
And if one prevail against him,
two shall withstand him;
and a threefold cord is
not quickly broken.
Ecclesiastes 4:9-12

Christian Romans Wedding Bulletins 100-Pack
These beautiful Christian wedding bulletins have a red top and bottom and showcase wedding rings in the center with this Christian Love Bible verse that reads:
Love must be sincere.
Be devoted to one another in love.
Honor one another above yourselves.
Romans 12:9-10 NIV
True Love wedding bulletins arrive packaged flat 8.5″ x 11″ to fit into your printer or copier in packages of 100.



Christian Wedding Programs
Photo by John Hope Photography.

Today, Tomorrow, Forever Christian Wedding Bulletins
These wedding programs have a contemporary design printed on premium paper stock read:
YESTERDAY we discovered love, gently unfolding in our hearts, whispering of the joy to come. TODAY our dreams will come true, creating memories that we'll cherish for a lifetime. TOMORROW we begin a new journey hand in hand, eager to explore a world of promise. FOREVER we will share an everlasting love that would come from God alone.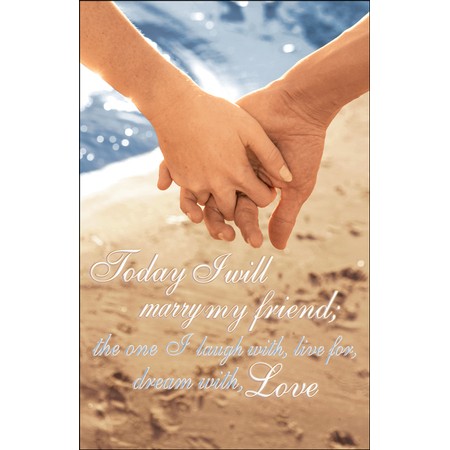 Today I Will Marry My Friend, Wedding Bulletins 100-Pack
This bulletin has shows a bride and groom holding hands on the beach and the front says:
Today I marry my friend;
the one I laugh with, live for,
dream with, Love.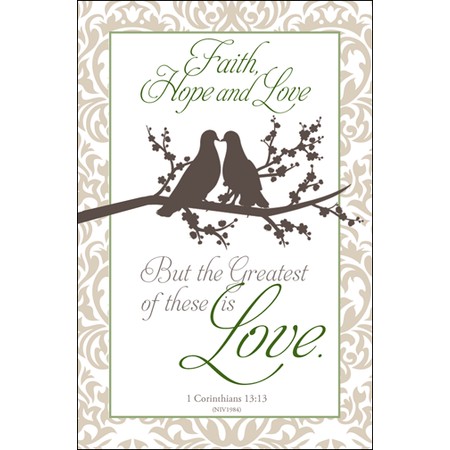 Greatest of These is Love Christian Wedding Bulletins 100-Pack
Christian wedding programs with this Bible verse and sentiment:
Faith, Hope and Love. But the greatest of these is Love. 1 Corinthians 13:13.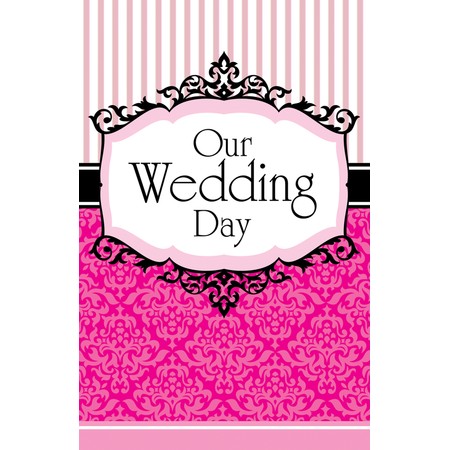 Our Wedding Day Bulletins – 1 John 4:12
All wedding bulletins come unfolded in shrink wrapped packages of 100. This bulletin has a hot pink bottom and a white and pink stripped top. The center reads: Our Wedding Day. Inside the program is this lovely Bible verse:
No one has ever seen God;
but if we love one another,
God lives in us and his
love is made complete in us.
1 John 4:12
Steven Curtis Chapman – I Will Be Here (Live)

I Will be Here Steven Curtis Chapman Christian Wedding Programs
Based on the popular song by Christian artist Steven Curtis Chapman, these bulletins are ready for you to print your wedding day program on and read:
I will be here. When you feel like being quiet. When you need to speak your mind. I will listen. And I will be here when the laughter turns to crying Through the winning, losing and trying, we'll be together.

I will be here. And you can cry on my shoulder. When the mirror tells us we're older. I will hold you. And I will be here to watch you grow in beauty and tell you all the things you are to me.

I will be here. I will be true to the promise I have made to you and to the One who gave you to me. Oh, I will be here.