Featured Christian wedding rings, engagement rings, and also wedding bands, come in a wide selection of prices. Religious wedding rings come in many metal choices to fit all budget needs.
The featured religious wedding rings are high-quality and available for both men and women.
Christian rings for men can also serve as a men's wedding band. In addition, the Christian wedding rings will make a great Holiday gift, since most are engraved.
Christian wedding rings are engraved with religious symbols, like the cross, dove, and also an Ichthus fish symbol.
Religious wedding rings come in a variety of metals and the materials range from sterling silver, 14K gold to white gold.

With This Ring Engraved Wedding Ring
Matching Christian Wedding Rings

I am My Beloved's Bible Verse Engraved Wedding Ring
Hand-crafted wedding ring set are graved in Gaelic letters. Also,  ring arrives in a presentation box with card which explains the ring quote: Each wedding ring is engraved with the following Bible verse:
I am my beloved's and my beloved is mine.
Both wedding rings are engraved with a  quote  from the Bible verse, Song of Solomon in Gaelic lettering which reads:
Le mo ghrasa mise,
agus liomsa mo ghra.

Personalized Faith His & Hers Diamond Wedding Rings
A beautiful Christian wedding ring set which honors God!
Religious wedding band has brushed-silver tone and a gold-tone border.
Also, each ring has  a diamond stone in the center, with 2 engraved crosses on each side, and are also  with this sentiment, Together in Faith.
Engagement ring for women has a brilliant collection of 25 diamonds in a round setting and also 2 crosses on each side of the centerpiece!

Wedding Ceremony Ring Exchange
Diamond Christian Engagement Ring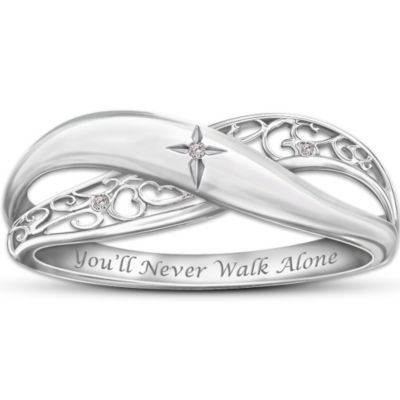 Pure Faith Engraved Diamond Engagement Ring
In addition, the engagement ring is engraved with the sentiment: You'll Never Walk Alone.
Budget Christian Wedding Rings

Love Never Fails Covenant Ring
Stainless Steel ring engraved with the Bible verse:
Love Never Fails
1 Cor. 13:8.

Men's Religious Engraved Band
The budget-friendly religious wedding band is etched with a familiar Scripture quote and also 2 crosses.