Christian Wedding Supplies
Below are Christian wedding supplies, invitation ideas, as well as, paper reception party supplies.
The Holy Bible has many verses about love.
The love between a man and a woman is sacred and as the wedding date approaches, you understand God's will for the joining of two lives.

Unity Wedding Candle Set
The pillar candle is printed with this quote:
On this day I will
marry my friend,
my love,
my soul mate and
we shall become one.
The most popular Christian wedding supplies have the Bible verse that serves a  beautiful reminder of "love" and is from the book of 1 Corinthians 13 verse which says:
Love is patient,
love is kind and
is not jealous:
love does not brag and
is not arrogant,
does not act unbecomingly;
it does not seek its own
but rejoices with the truth

Personalized  Wedding Unity Candle
Love is Patient Wedding Supplies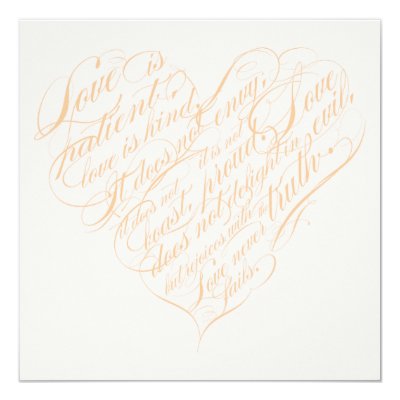 Love is patient Bible Verse Calligraphy Wedding Invitations
Christian wedding invitation has the Song of Solomon Scripture quote in gold type.

Love Is Patient Wedding Invitation

DIY Love is Patient Wedding Charms
Christian Wedding Napkins

Personalized Christian Wedding Napkins 50-Pack
Christian wedding napkins in 20 colors, with a cross graphic, and personalized with 2 lines of text in silver-tone ink.

Religious Personalized Black Napkins

Wedding Picture Ideas Collage
By jennifrmtheblog
Christian Wedding Reception Supplies

Wedding Reception Overview
Tiffany Ronquillo.

Premium White Wedding Tableware Collection

8  Religious Wedding Party Plates

3 Religious Centerpiece Decorations