Christian Wedding Thank You Cards
Christian wedding thank you cards come in a variety of designs. Some religious  thank you cards come blank inside and perfect for you to write your note of thanks inside to your   bridal party, wedding party and guests for celebrating your wedding day with you.
Many of these cards are customized Christian wedding thank you cards have matching wedding invitations and stationary items.
Also, wedding thank you cards can be ordered blank so a short hand-written personal note of thanks can be used.

Custom and Digital Wedding Thank you Card
Thank everyone who helped celebrate the wedding with one a customized thank you card!
Most wedding thank you cards will have an image, as well as, a short sentiment.
Christian Wedding Thank You Cards

Wedding Thank You Scripture Quote Cards 6-Pack
These lovely, thank you cards are a great way to say thank to those who have been a blessing in your life. Cards have foil accents, font, and full color inside. The cover reads:
Thank You The goodness and generosity you share so happily are wonderful reminders of the true meaning of God's love.
Inside sentiment and Scripture quote reads:
Thank you for being the blessing you are to all who know you.

May God shower you with blessings.

25 Personalized Faith, Hope, Love  Wedding Thank Yous
Going to the Chapel Wedding Thank Yous

Going to the Chapel Wedding Thank You Card
Matching "going to the chapel" wedding invitations, these modern wedding thank you note cards have wedding chapel graphic set against a pale background ( 3 color choices ) and personalized with your names and the insides are left blank for your personal note of thanks.
The wedding thank you envelopes can be personalized with the recipient's address at no additional charge.
Colossians 1:2 TLB
The Lord bless you for showing this kindness.
He who refreshes others will himself be refreshed.
Proverbs 11:25.

Thank You God Bride Thanks Dad
Photo Taryn by Brianna Louder.
Christian Fill In Thank You Cards


48 Religious Fill In Thank You Notes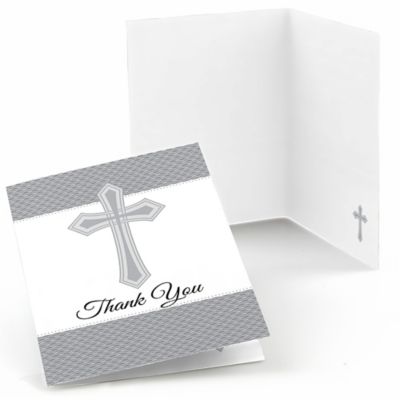 Delicate Cross Wedding Thank You Cards 8-Pack
Photo Christian Wedding Thank You Cards

Wedding Rings and Rose Bridal Bouquet
Photo credit: e.t.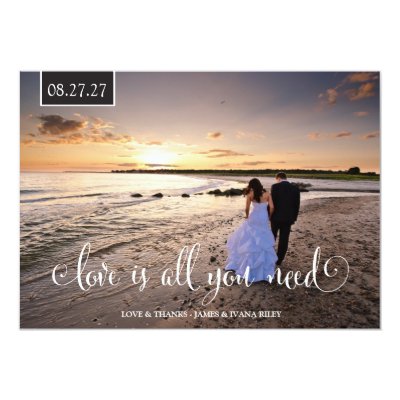 Love is all You Need Wedding Photo Thank you

Live by Faith Romans Wedding Postcards
This religious postcard has a rural country southern Kentucky old vintage church steeple photograph and this Bible verse:
Live by faith. Romans 1:17.

We Said I Do Wedding Thank You Cards
Whimsical bride and groom characters send your wedding guests a "thank you" on these cute wedding thank you cards along with your names and the sentiment: We said I do now we want to say thank you.


Classic Photo Wedding Thank You Cards

Joyful Wedding Photo Thank You Cards

Photo Wedding Thank You Card