The dove represents peace and love and will will make an excellent Christian Dove wedding theme.
Doves have been a Christian symbol of hope since the Dove sent out by Noah to find dry land. Also,  a dove landed on the shoulder of Jesus after He was baptized by John.
Dove wedding theme can be mixed with the pretty Love Bird wedding items since there is a large variety of these supplies available.
Feature photo is the Dove wedding balloons. Since these beautiful wedding balloons are made in the shape of doves, they will look lovely displayed throughout either an indoor or outdoor wedding!
Best of all, the Dove-shaped balloons will add elegance to wedding decorations, as well as,  add the charm to any reception space.

Peace Dove Wedding Balloons 6-Pack
Other dove wedding supplies feature on this page include: cake toppers, decorations, and also party favors.
Dove Wedding Theme Wedding Ideas

Two Doves Wedding Musical Memory Cake Keepsake Box
This stunning 3-tiered wedding keepsake cake opens to reveal storage spaces.
The upper wedding cake layer is really a music box (which can be removed) and  plays the tune, Vivaldi's Spring.



Doves and Holy Bible Decorative Wedding Cake Topper
The  wedding cake decoration has a Holy Bible with  2 doves under an arch. In addition, the Bible is printed with the Bible verse: Love bears all things believes all things, hopes all things, and endures all things.<

Wedding Announcement Postcards


Printable Doves Invitation Template
Pretty blue doves wedding invitation template is edible but can be printed with the sentiment:
Bride and groom invite you
to join us as we exchange
our vows and begin our
new life together.


Love Doves Shaped Soap Party Favors
Love Birds Wedding Supplies


Lovebirds Wedding Accessory Set
White love bird wedding collection which has a guest book, 2 champagne toasting flutes, a cake and knife, as well as, a pen holder with pen.


Birds Pillow Wedding Favor Boxes
Lovebirds Wedding Supplies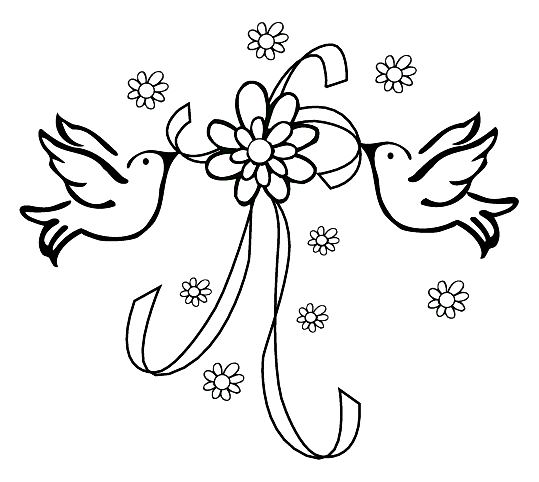 2 Wedding Doves Coloring Page
A Dove Bible Verse which is found in Psalm 55:6 is a wonderful wedding quote and is so beautiful.
I said
Oh, that I had
wings like a dove!
I would fly
away and
be at rest.