If you are looking for love wedding theme ideas,  pass on some the love you share when you use some of these wedding accessories, decorations, favor ideas, party favors, to share with your guests.
Through out the Bible, the message of love is repeated over and over again.
The love that Jesus showed the world by dying on the Cross for our sins, the love God has for His children, the love we are to show our neighbors.
In addition, the love between friends, family members, and the love between a man, and woman, as they become one in marriage.

24 Love Design Wedding Boxes
Do-it-yourself wedding party favor box set which comes in a set of 24. Each box has a letter of the word, love.

Love Wedding  Supplies


Love Story Wedding Scene Setter Decoration Kit
An enchanting Love Story wedding decorations and scene setter can be created by using the following props and also scene setters:
3D stretch chandelier, luminescent canopy gazebo, luminescent columns, white lighted tree, and rolls of white tulle fabric. White Tulle. Several of the Love Story supplies are located through the link below and more ideas to create a stunning wedding reception!

Love Always Forever Wedding Supplies
Elegant Love wedding party supplies in gold and pink.
Wedding party supplies printed with a wonderful quote which reads:
Love Always & Forever and items include: cups, napkins, plates, and much more.

Welcome guests to your wedding reception with this personalized Love wedding sign which measures:  52″ by 17″.
Two Hearts Wedding Supplies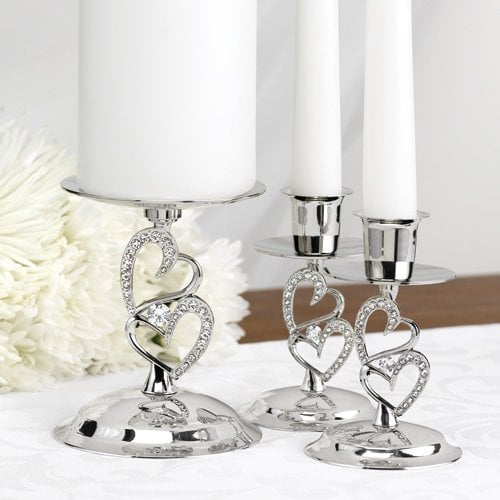 Wedding Unity Candy Set
Give your traditional wedding ceremony love and sparkles when you use these unity candle stands with the word "Love" spelled out in rhinestone-accented letters.

2 Hearts Wedding Accessories
Create a romantic atmosphere for your wedding day when you use these love theme wedding accessories that  have 2 silver hearts intertwined. The love wedding accessories include: flower girl basket, garter, guest book and pen, ring bearer pillow. The  cake server, champagne flutes, and knife set are available separately

Newlyweds Walking
By Derek S. Finch.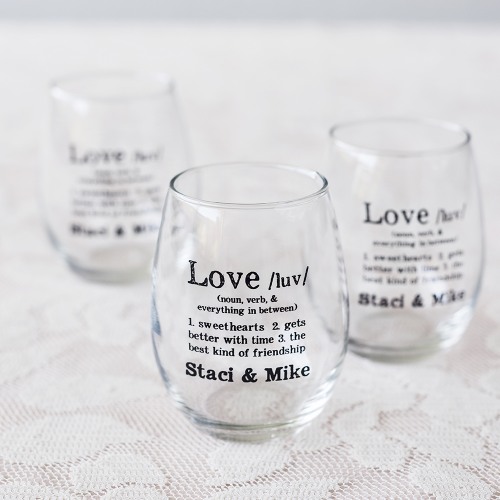 Definition of Love Stemless Glasses
Custom stemless wine glasses can be used for any drinks, or can be filled with candy for a wedding reception.
Stemless wine glass is printed with the "definition of love" from the dictionary, along with the bride and groom's name at the bottom. Give your wedding guests one of these wine glasses as a "thank you" gift before they leave your reception.

Love Story Wedding Cake Bags 12-Pack
White paper cake bags printed with a loving sentiment which reads:
A True Love Story Never Ends.
Love Theme Party Favors

Spread the love with  guests when you shower theme with some of the love you and your true love feel with some of these Love-themed favors and wedding collection.


2 Hearts Design Wedding Butter Mints


Two Hearts Gift Bags 12-Pack
Beautiful wedding welcome bags in silver printed with 2 hearts and also the quote: Welcome to our wedding. Wedding gift bags come with rope hands and also a gift tag.

Bride and Groom
Photography by Holger Myller
Love Wedding Theme Rings

Wedding Rings
Photo by Greg Daniel Photography.


Photo by JellyCake.