Personalized Wedding Favors
Looking for Christian and personalized wedding favors? Personalized wedding favors come in a large selection styles like: cards, coffee, popcorn bags, stickers, and more!
Wedding party favors make a wonderful small gift for guests to take home and will serve as reminder of the wonderful event.
Personalized Christian wedding party favors come in a variety of useful products like: coffee, popcorn, playing cards, and so much more.
Since there are many wedding favor designs, choose a practical wedding favor which matches your style.
If you plan to make wedding favors, consider using one of the printed labels ( shown below ) which will give regular favors a store-bought look.
Custom wedding party favors can also be used as small gifts for a bridal shower, engagement party, or rehearsal dinner guests.
Personalized Christian Wedding Favors

Love is Patient Custom Wedding Stickers
These personalized stickers will be great to use on wedding envelopes, cards,  favors, and more!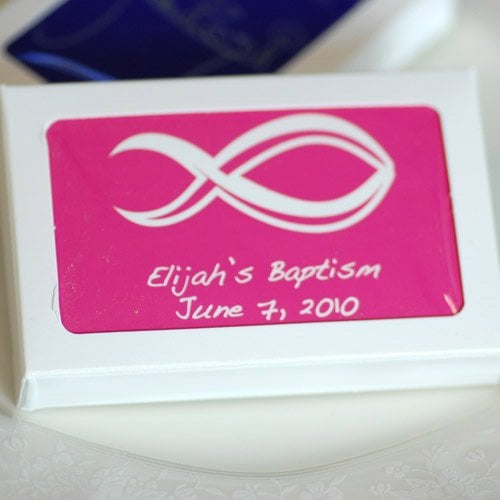 Custom Christian Wedding Playing Cards
Personalized religious playing cards are a fun wedding favor and the card box comes with a custom label.

Personalized 2 Hearts Wedding Bubble Tubes
Customized wedding bubble tubes each with a double-heart top!

Personalized Wedding Cookie Cutter
Heart-shaped cookie cutter comes on white gift card printed with a lovely wedding quote on the front and inside which reads:
Love Always And Forever
Also, each cookie cutter comes on a beautiful wedding card with a poem printed inside.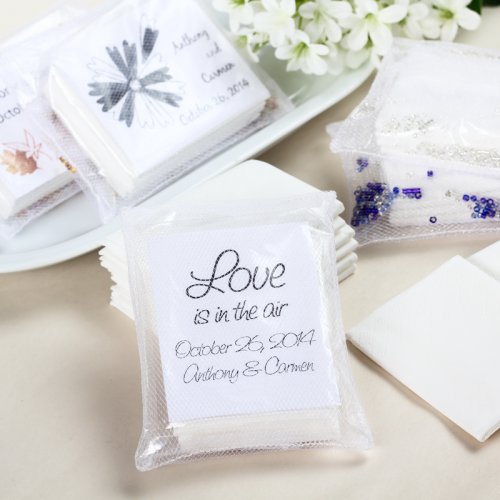 Personalized Love in the Air Wedding Tissues
Everyone cries at weddings, so why not present your guests a package of these "love is in the air" wedding tissues!? These personalized tissue packs come in a variety of colors to match your wedding colors, and and placed inside a pretty tulle fabric.
Personalized Wedding Treats


Custom Wedding Photo Mini Popcorn Bags
Mini popcorn bags are printed with a photo and also one line of text. Wedding popcorn bags come in 22 label colors. Also, each bag is wrapped individually.

Custom Wedding Jelly Beans
More Personalized Wedding Favors

Assorted Colors Custom Wedding Votive Candles
Votive candle holders come personalized with 2 names and also a sentiment printed in a variety of type colors.



Custom Photo Wedding Fans

Personalized Wedding Favors Pens
White wedding pen come with 4 printed messages and space to personalize 2 messages.