Something Blue Bridal Shower
Host a traditional Something Blue bridal shower to give the bride-to-be good luck! The something old, something new, and something blue poem is based on the classic wedding poem about the items a bride should wear on the wedding day.
Find both, new and old, Something Blue bridal shower ideas below like: decorations, favors, invitations, and also table ware.
The something Blue wedding quote is a traditional wedding poem which is associated with the first line of the poem that is probably familiar.
Something old, something new, something borrowed, something blue, and a silver sixpence in her shoe.

Something New and Blue Bridal Shower Party Kit
Pretty bridal shower table ware has a graphic of a wedding dress set against a blue background with pink accents. The bridal shower party kit has 125 pieces.
Something Blue Bridal Shower Supplies

DIY Complete Blue Bridal Shower Party Set
Do-it-yourself chevron blue and white bridal shower party supplies which include an invitation, backdrop banner and sign, bag labels, candy buffet sign, cupcake tops and wraps, iron-on transfer, place cards,  table signs, as well as, 3 party games.



Blue and White Wedding Candy Buffet Supplies

Engagement Ring Bridal Shower Manicure Set Favor
Manicure set is shaped like a diamond ring and  printed with a quote: Something Blue. A manicure set  is a useful bridal shower party favor.

Lucky Sixpence Coin for Bridal Shoe
Give the bride a traditional keepsake like this lucky sixpence to wear in her shoe. Lucky sixpence comes on a gift card which explains the wedding tradition!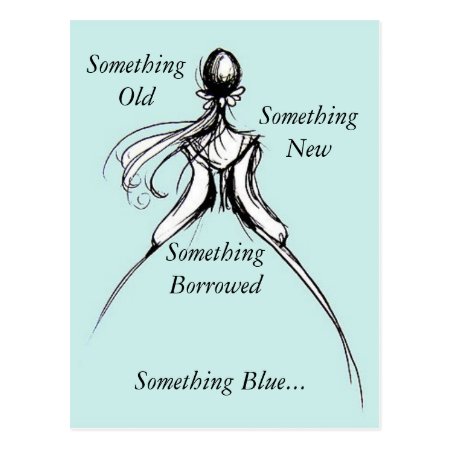 Something Old and New Bridal Postcard
Printable Bridal Shower Games
Bridal shower party games are still relevant today for fun during the event. One way party games have changed is that they can be printed at home like the 3 bridal shower game packages below.



10 Digital Blue Wedding Shower Games Collection
Printable blue set of bridal shower games with 10 fun party games. Guests will love these  bridal shower games in the set which are as follows:
Bridal Shower Bingo
Bridal Scattergories
Famous Couples
Him or Her (Bride and Groom quiz)
How Well Do You Know the Bride?
Little Black Purse Scavenger Hunt
Love Around the World
Wedding Word Search
Wedding Words Scramble
What's in your Cell Phone?


3 Print and Play Bridal Shower Games


30 Digital Bridal Shower Bingo Card Games

6 Modern Housewife Bridal Shower Game Templates

2 Printable Retro Housewife Bridal Shower Games
Blue Bridal Shower Decorating Ideas


Light Blue Wedding Fabric Gossamer Roll
Use the blue roll of gossamer fabric to cover bridal shower tables and also walls.
Gossamer fabric is a quick and easy way to decorate any bridal shower space and the roll  measures: 100 feet long by 3 feet wide.
Something Blue Bridal Shower Favor Ideas


Blue Purse Wedding Favor Box Set 24-Pack
Blue purse-style bridal shower favor boxes have an organza handle and also a matching bow.



Engagement Ring Key Chain Wedding Shower Favors
Since he asked, and she said yes, then a bridal shower is in order! Give bridal shower guests one of these engagement ring key chains as a wedding favor. The key chain favor comes on a gift card which is tied with ribbon.


Bridesmaids Holding Flowers
Photo by Michelle Hayes.
Bridal Shower Invitation Templates


DIY Ethnic Bride in Dress Invitation